M.S.A.T. - Master of Science in Athletic Training
Program Type
Master of Science (M.S.)
The Master of Science in Athletic Training at Limestone University is a vigorous 60 credit-hour graduate program that takes place over 24 months in face-to-face and hybrid formats to prepare students to earn the certified athletic trainer credential.  Athletic Trainers (ATs) are health care professionals who collaborate with physicians. The services provided by ATs comprise of prevention, emergency care, clinical diagnosis, therapeutic intervention and rehabilitation of injuries and medical conditions. ATs work under the direction of physicians, as prescribed by state licensure statutes.
Students are provided with academic instruction and hands-on clinical experiences as well as learning alongside other healthcare professionals. 
Goals
Goal 1: Students will demonstrate ethics and professional behaviors.
Goal 2:  Students will develop the professional knowledge, skills, and attributes necessary for employment as an entry-level athletic trainer alongside other healthcare professionals and administrators. 
Goal 3: Students will learn how to synthesize and utilize evidence-based practice and advance their critical thinking and decision-making skills.
Goal 4: Students will effectively communicate and interact with health professionals in a variety of settings.  
Goal 5: Students will become familiar with applying the social determinants of health with healthcare informatics and literacy.  
Goal 6: To foster students' development in evaluation, treatment and rehabilitation techniques and apply skills in diverse patient populations.  
Mission Statement  
The mission of the Master of Science in Athletic Training Program is to develop and foster the professional preparation of future athletic trainers.  The program aims to produce competent clinicians with the ability to operate in an inter-professional environment that is founded on evidence-based principles. The program encourages personal and professional growth through ethical decision making, and critical thinking underpinned by the ideals of the University. 
Accreditation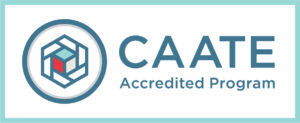 Limestone University's Undergraduate Athletic Training Program is currently accredited by the Commission on Accreditation of Athletic Training Education (CAATE), 2001 K Street NW, Third Floor North, Washington, DC 20006 USA. 
The program intends to apply to the CAATE for a change in level of degree in February 2022.
Admission Requirements
Admission to Limestone University's Master of Science in Athletic Training Program is highly competitive.  Admission decisions on: 
Official transcript of undergraduate or graduate degree from a regionally accredited college or university.
Completed prerequisite coursework with a grade of "C" or better in the following areas: Anatomy and Physiology or Anatomy and Physiology I and II, Chemistry, Physics, Nutrition, Psychology, Kinesiology, Exercise Physiology, Medical Terminology, and Statistics;  
Cumulative undergraduate grade point average (3.00 minimum) per official transcript; 
50 observation hours under a certified athletic trainer;  
Proof of Emergency Cardiac Care certification (American Heart Association BLS for the Healthcare Provider or American Red Cross Professional Rescuer);  
A completed application at limestone.edu/apply
Signed Technical Standards form;
Two letters of recommendation (one letter from an academic source and one from an athletic trainer that supervised the required observation hours);
An interview (to be scheduled after application review). 
Employment Settings
Public and private secondary schools, colleges and universities, professional and Olympic sports
Youth leagues, municipal and independently owned youth sports facilities
Physician practice, similar to nurses, physician assistants, physical therapists and other professional clinical personnel
Rural and urban hospitals, hospital emergency rooms, urgent and ambulatory care centers
Clinics with specialties in sports medicine, cardiac rehab, medical fitness, wellness and physical therapy
Occupational health departments in commercial settings, which include manufacturing, distribution and offices to assist with ergonomics
Police and fire departments and academies, municipal departments, branches of the military
Performing arts including professional and collegiate level dance and music
Degree Requirements
Last modified
10/06/2022 - 10:57